The steps in this tutorial are going to show you how to view the battery health of your iPhone. We cover the steps briefly at the top of this article, then continue with additional information below, as well as pictures of the steps.
Open the Settings app.
Choose the Battery option.
Touch the Battery Health button.
View your iPhone's battery status and health.
When your iPhone's battery starts to hold less of a charge, you may be concerned that something is wrong with it, and that you need to replace it.
While iPhone batteries can deteriorate to a point where they do need to be replaced, that may not actually be the case. Our tutorial below is going to show you where to find the menu on your iPhone that displays the current health of your iPhone battery as well as the level at which it is performing.
How to View Your iPhone Battery Health
The steps in this article were performed on an iPhone 7 Plus in iOS 12.4.1.
Step 1: Tap the Settings icon.
Step 2: Scroll down and choose the Battery option.
Step 3: Touch the Battery Health button.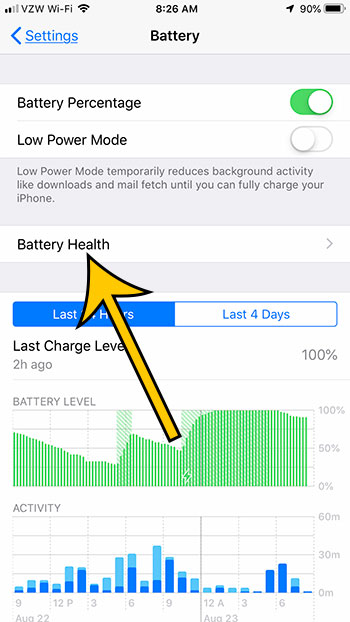 Step 4: View your iPhone's battery health information.
Is your iPhone battery icon changing colors? Find out why your iPhone battery is yellow and see why it can be a good thing, and how you can force it to become yellow at any time.